Have you ever paid attention to the type of socks you are pairing your outfit with? Do you know about the kind of socks according to their length?
What is the difference between crew and ankle socks? These were the questions wandering around my mind whenever I came across the term crew and ankle socks. I wish I had known the answer to them before. Later, with research, I found that the socks world is so diverse.
In the diversity of the socks world, socks are categorized in varying lengths, styles, features, and fabrics. All are styled differently according to their purpose. Socks are also differentiated on the basis of their height. But what if I tell you that the varying heights of the socks are going to make a difference in your life?
Socks division on the basis of Height:
let us see how by getting an understanding of different heights of socks. According to the height of the socks, they are divided into the
All of them differ from one another in minor to major intensities. However, crew and ankle socks are the most widely used length of socks. Since both of these most commonly are paired with casual outfits they get confused a lot. But what actually sets them apart? Is it the features? Use or length?
In this article, we will be discussing the difference between crew and ankle socks and which type can go better with casual and fancy outfits, but first, let's just hop into the reason why you should notice the height of the socks.
Why it is important to notice the height of socks?
Socks are meant to protect your feet. They protect the feet from friction, blisters, and other potential damage. Along with this, the sweat-wicking, breathability, and comfort make the socks a vital consideration. There is no point in wearing shoes without socks.
But consider going to an event and wearing knee-high socks. Even the thought of wearing quarter-length socks with heels seems to be ridiculous. Whereas, wearing no-show socks in snow, when snow can get into your shoes will make your feet hurt.
This is where the length of the socks comes into play. Also, the varying lengths of socks complementing your dress give you a pass from the fashion police. And who doesn't want that?
What are the crew and ankle-length of the socks?
Before stepping into learning the difference between these types, it's essential to know their descriptions.
Crew socks:
Best Crew Socks on Amazon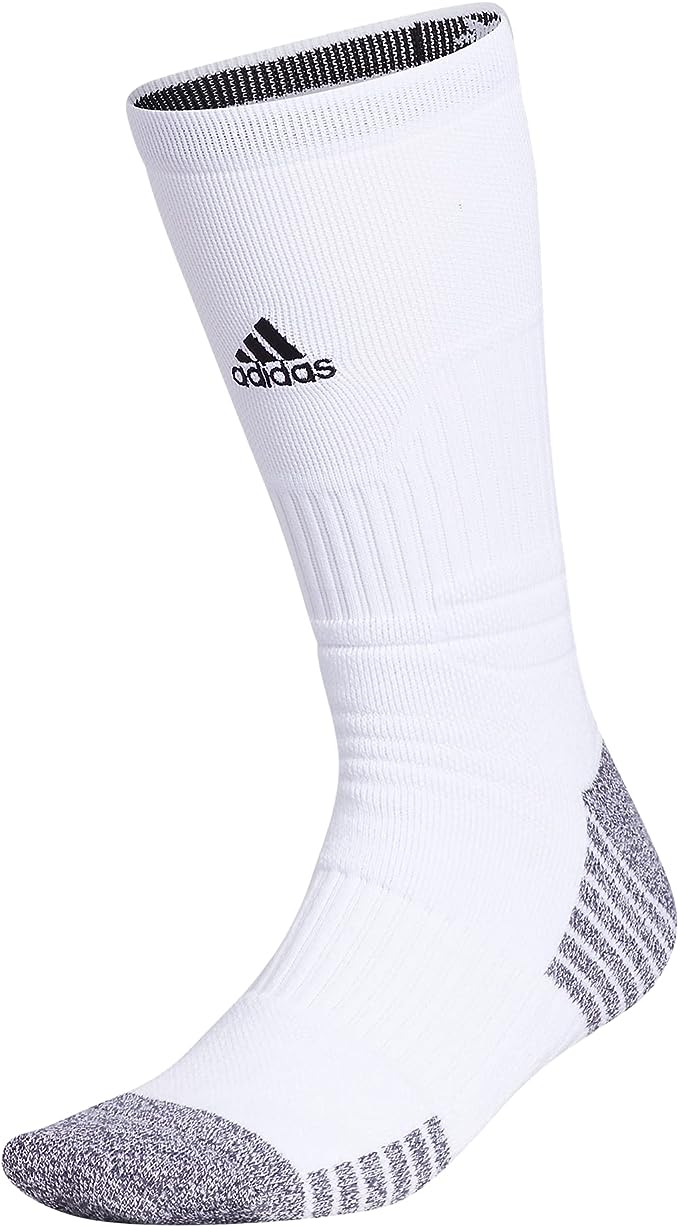 adidas 5-Star Team Cushioned Crew Socks
44% Cotton, 25% Recycled Nylon, 24% Recycled Polyester, 4% Natural Latex Rubber, 3% Spandex
Imported
Pull On closure
Machine Wash
Moisture-wicking
Reinforced footbed for maximum durability.
Arch and ankle compression secures the foot and offers extra support.
Cushioned in the foot, Achilles, and ankle for added comfort and protection.
The first thing you may imagine after hearing "crew socks" can be the "crew of the ship". Well, I imagined it though and upon researching, I found out that it points to its history. Crew socks basically referred to the standardized length of the socks traditionally worn by military crew members.
Crew socks rise from the heel and touch the calf muscles. The length from the heel to the top of the cuff lies between 6-8 inches. These socks are also ribbed at the cuff support and most of the time the crew socks come a little thicker.
They snug the feet and secure the shoe fully covering the ankle and shin protecting it from chaffing. Crew socks give a nice touch to your outfit. It also protects your feet from mosquitoes, sharp objects, and thorns on hiking. Additionally, Crew socks are commonly used for casual wear, running, hiking, and dress socks.
Ankle socks:
Best Ankle socks for men and women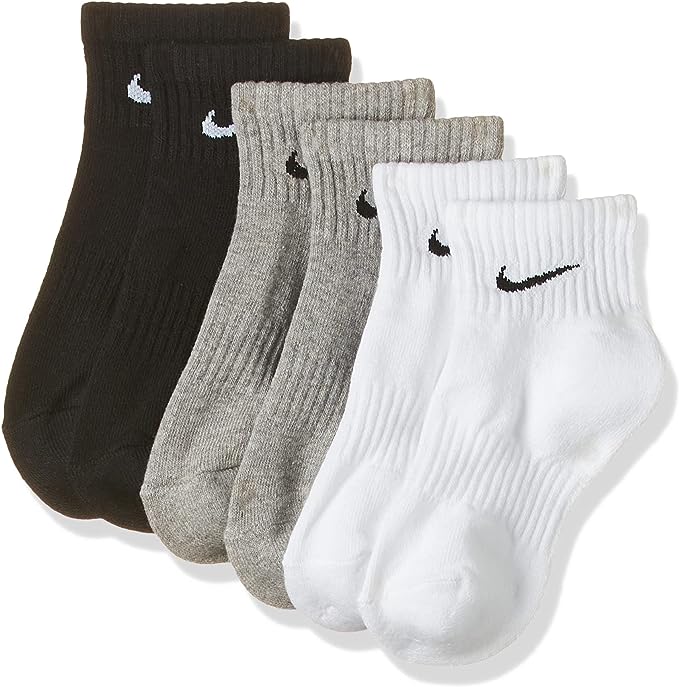 Nike Everyday Cushion Ankle Socks
71% cotton/26% polyester/2% spandex/1% nylon
Imported
Machine Wash
Extra comfort for foot drills and lifts
The 1/4-length silhouette offers complete coverage
Secure and flexible design
Sweat-wicking fabric
Terry sole for increased comfort
If you want to show your socks a little bit over the shoes, then the ankle socks are for you. Ankle socks cover the foot and rise up to the ankle. Not to be confused with no-show socks because these socks are visible a few inches above shoes.
Since, they pair well with sneakers, shorter boots, and some high heels ankle socks, they can be one of the favorite choices of fashion geeks. Ankle socks also come as lightweight and breathable. Their breathability makes them a great choice for athletic outfits and loungewear. They are very fashion-friendly and are available in a variety of colors and designs.
The Differentiation Factors and Pros – Ankle socks vs Crew socks:
Length:
The main highlight of the difference between crew and ankle socks is their height. The crew socks are up to 6 inches while the ankle socks lie between 2-5 inches. The crew socks touch below the calf however the ankle socks stop right before the ankle. The ankle socks are low-cut socks and show a bit over the top of the shoes. Whereas, the crew socks protect and cover the shin. Crew socks are very visible from the shoes.
Purpose of wearing:
An ankle sock is an athletic and casual choice. Ankle socks are worn with no intention of the socks being visible on the legs. Specifically, whenever you intend to pair socks with shorts and Capri, you know that long socks will look bad. But you want your trendy socks to peek from the shoes. Then your ultimate choice would be the ankle socks.
There is a possibility that you already have crew socks in your wardrobe. They are ideal for boots and jeans. Crew socks pair well with a variety of shoes including Chelsea boots, Chukka boots, sneakers, oxfords, brogues, running and hiking shoes.
The comfort of the crew socks is perfect for everyday wear, especially at night. However, ankles are usually paired with sneakers, loafers, flats, and heels.
Comfort and features:
Crew socks are more functional than look. They cover the shin and have comfortable cushioned soles. Crew socks stay secure to the foot and sufficiently thick for comfort. The ankle socks are barely visible and protect the feet from rubbing and blisters.
Ankle socks are very lightweight and breathable and come with moisture-wicking capabilities according to the fabric used. Ankle socks maintain sweating and keep the feet dry and warm. The crew socks are low-cut for comfort while the crew socks have an appropriate height for both warmth and security.
Weather conditions they are perfect for:
Crew socks provide extra cushioning. Crew socks specifically with wool fabric are an amazing choice for winter and fall. They keep the feet dry and warm.
Unfortunately, ankle socks do not protect the legs in winter. However, they are preferred with summer outfits due to their breathability. The crew socks cannot be used in summer as they trap more heat on the lower leg.
Retaining moisture:
Moisture-wicking is the functionality of fabric. Crew socks mostly come in cotton fabric however, both ankle and crew socks can be made with a variety of fabrics.
This includes wool, polyester, spandex, and blends of all. Crew socks are said to retain the natural moisture of feet during the dry months. This reduces dryness as compared to ankle socks.
Sportswear:
Athletic people prefer short socks for running, cycling, and workout. For all these occasions ankle socks are a choice with tennis shoes. Crew socks also play a role in protecting skin on the sports field. They are perfect for outdoor sports like hiking, running, and skiing.
Dressing and styling:
Both ankle and crew socks have wide applications with casual and athletic to dressy and formal outfits. The ankle socks due to their low heights fit perfectly in a different situation from active to casual use.
Moreover, they come in different trendy designs for low-cut shoes, informal, gym shoes, or running shoes. Available in different styles ankle socks can cheer you up.
There is a possibility that you already have crew socks in your wardrobe. Crew socks fit all outfits from formal to casual with shoes from sportswear, and trainers from formal to fancy shoes. They are perfect for events, formal parties, and meetings. Whereas, ankle socks with formal dress may seem a little odd.
Ankle socks are time savvy:
Whenever you are in a hurry and have no time then rock your look with trendy ankle socks. They are time savvy and look good for activewear like traveling gym, and airport look. While having black or white crew socks in the wardrobe can serve you well. As it will rock different shoes and dress styles.
Cons of ankle socks and crew socks:
There are a few things you should note if you want to have ankle or crew socks. The ankle socks you are looking for must be well-fitting and soft.
Otherwise, loose crew socks can unnecessarily roll down your leg causing you to stop. Ankle socks can be too tight and leave a mark on your skin. Inappropriate socks can make your feet smell, hurt, and heel crack.
Conclusion:
The article was all about ankle socks vs crew socks. In light of all arguments, it is to be concluded that it is not the socks that make the difference whether good or bad. But it is the purpose of wear and method of styling that makes a person stand out.
The ankle socks are to be used when you feel crew socks are too hot for your feet. While the crew socks can protect your legs in winter when the ankle socks fail to do so. We hope that the article would be helpful for your understanding that what is the difference between the crew and ankle socks.
---