Tiny feet, endless possibilities. As you step into parenthood, discover the art of keeping your little one snug and stylish from the ground up. Our guide unveils the perfect equation of comfort, cuteness, and convenience in the world of baby sock essentials
Dear Courageous Parents, This article entails information about how many pairs of baby socks do you need.
Little things matter the most and it's so true when it comes to baby socks. Preparing your baby's cloth checklist might sound like an easy and pleasing activity to others but only the parents know the struggle that goes behind finding eye-catching and comfortable clothing for their little ones.
While you might have plenty of clothing options in mind, some might attract your eye and you buy them without actually having intentions of buying them while you were setting off from home.
In all these happenings, we often miss paying attention to the baby socks. But I am glad to see that you are not among those parents. And your worry about baby socks has brought you to this article.
Those little toes need attention:
Whether you are buying socks for a newborn, toddler, or a grown-up baby of 4 years. Your worry about how many pairs of baby socks you need is a justified one.
You can be content with socks' quality, fabric, and features. But having a defined number of socks does irritate the neurons. For this purpose, we did research and found out what parents had to say.
While some preferred having 3-4 pairs of socks, some advised to consider onesies instead and some suggested having 10 or greater pairs of socks.
This concludes that choosing the number of pairs of socks pairs entirely depends on your personal preference; however, included factors in the article below can also be considered.
Why is having a great pair of socks important?
Socks vaporize and disappear into thin air. This statement is so accurate for baby socks. The moment they leave your baby's feet, they will be completely gone into doom because you will never find them again. (at least I don't).
Socks vaporization is very common when you decide to wash them. Many mummies have come forward to state that they have lost half or at least 3 socks each time they decided to wash them and still have no clue where they went.
You might find them later on after weeks or months from a place that you would have really not thought of, but this disappearance is enough to spoil your event and give you parenting stress. This is why having more pairs of socks is ideal and highly recommended.
A quick tip for you!
Try buying more than two pieces of the same design. If somehow one sock manages to be lost, you will have the option to unpackage a new one and fill the gap.
Best Baby Socks in Bundle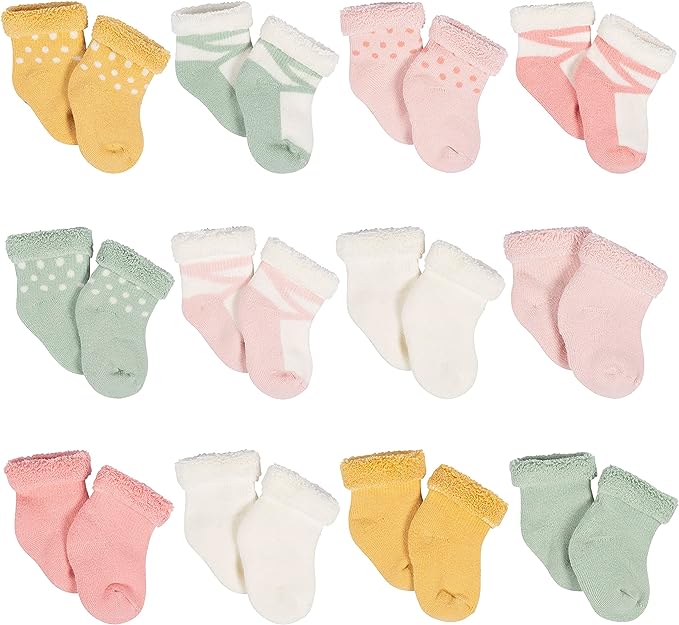 Gerber Baby 12-pair Sock Bundle
69% Cotton, 29% Nylon, 2% Spandex
Imported
Pull On closure
12 pack terry bootie socks help keep those little feet covered and warm all day and night
Designed to stay on babies feet with soft elastic and roll-back cuffs
Made of a fabric blend for cozy softness and great fit
How to select sock pair numbers for different-sized babies?
Having a defined number of pairs of socks pairs is not the same for all-sized babies. For example, there are clothes that have footies for infants and small babies, but when the baby grows up, you rarely find such kinds of clothes for your baby's size.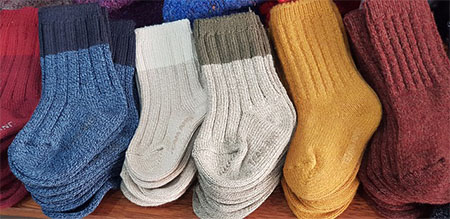 The foot movement of babies also plays a great role in choosing the socks pair number. 1-6 month babies have comparatively less foot movement than those toddlers or walking babies. Also, it is said that infants have less capability of blood circulation in the legs. This is why you can't compromise on having fewer pairs of socks.
Toddlers and walking babies have a special kind of relationship with socks. They just don't want them on their feet. But, in their mouth instead. I still am hardly able to understand what kind of joy the babies get when they succeed to pull off their socks in one go.
Even if they are not successful at taking them off completely, they do manage to get them off halfway and walk like zombies. For such a baby, you definitely won't be always in the mood to do laundry, but would instead prefer having more pairs of socks to save your day.
Let's categorize our need for socks for baby sizes. We have listed an average number in each of the categories after having intense research. We hope it will help you.
How many pairs of baby socks do you need for newborns?
There are two possible statements that play a role in determining the number of socks for newborn babies. Both statements support two different paradigms but are absolutely correct.
Statement 1: Newborn babies don't need enough socks because they don't get dirty easily in comparison to toddlers, standing, and walking babies.
Statement 2: You must have more pairs of socks for newborns because the size of these socks is very small and it easily peels off from the foot.
In consideration of both the statements put forth, we at the socks advisor recommend having at least 10-15 pairs of socks. Socks are easy to keep if newborns have shoes over them, this way they don't get dirty easily and don't even peel off, the difficulty starts when you don't put shoes over them
Best Newborn Baby Socks in Bundle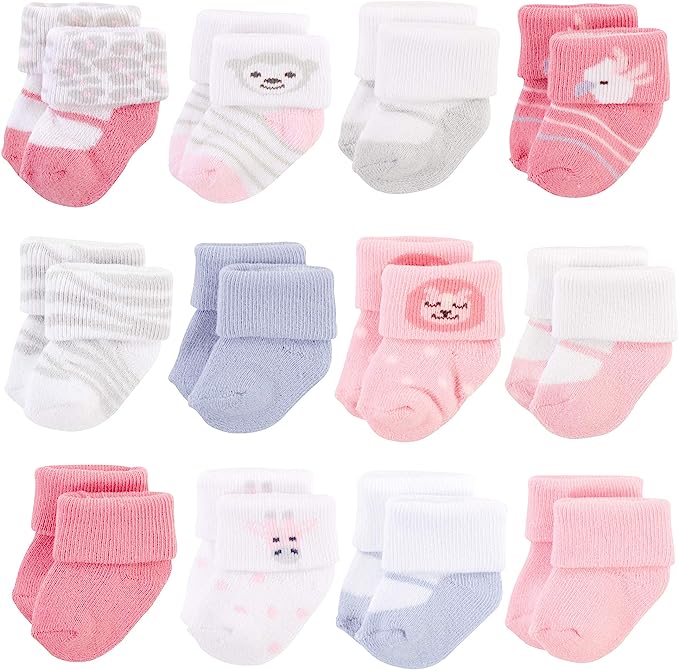 Hudson Baby Unisex Baby Cotton Rich Newborn and Terry Socks
100% Cotton, Polyester, And Spandex
Imported
SOCKS closure
Machine Wash
The Set includes eight pairs of socks
Soft, gentle, and comfortable on baby's skin
Optimal for everyday use
Affordable, high-quality value pack
Wear socks over outfits: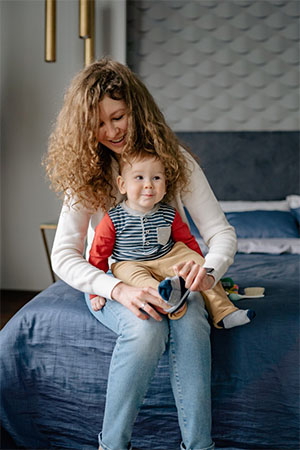 Most newborns struggle with their parents over finding the perfect-sized socks. This is because for some the sock size is small but for others, it's bigger. For these reasons, the best practice is to wear socks over those outfits that have footies.
Newborns also tend to kick, so when they do so, the leggings and socks if worn separately get tangled and cause irritation, however wearing them over outfits will not only keep the babies warm but also will keep the socks in place.
How many pairs of baby socks do you need for toddlers?
Ever wondered why mummies, whenever they go shopping, spend most of their time buying socks? It seems like a useless activity and you must have asked her why is she spending so much on socks and buying extra pairs when there are lots of pairs already in the home. I used to think so but now when I have my toddler sister around I understand the reason.
You can never get enough socks. My mom has a drawer full of socks that have lost their partners, which I initially supposed to be the complete pair of socks, and recalled my comments when my mom was out buying them. I still don't understand why mommies love to keep socks without partners, if you do, let me know in the comments section below the article.
No number can do justice to buying socks for toddlers. Get as many as you can because babies of this age can change 5 pairs of socks just in an hour. However, You need 20-25 pairs of socks for toddlers to save yourself. Toddlers experiment with everything around them and one of their successful experiments is taking off their socks or covering them with mud and dust.
You will always notice a mischievous smile on their tiny beautiful face whenever you jokingly scold them for spoiling their socks. In short, kids love playing with socks so having more pairs is always wise.
Best Toddler Socks Bundle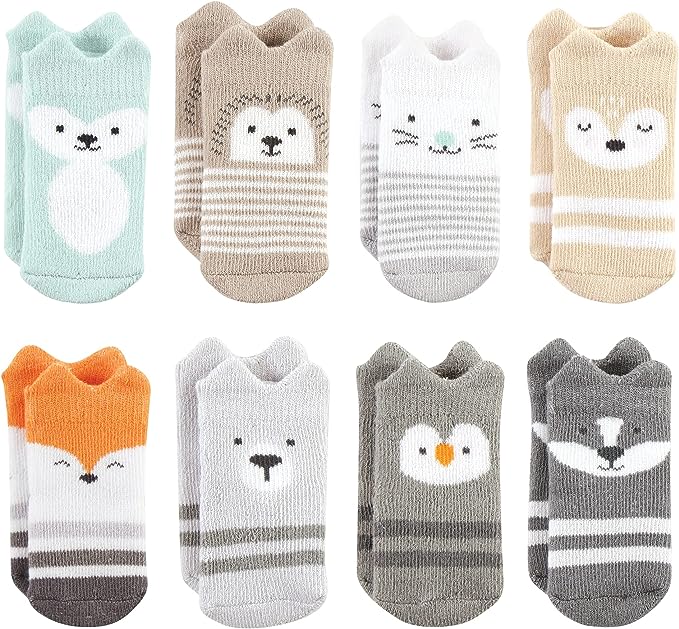 Hudson Baby Unisex Cotton Rich Terry Socks
77% Cotton, 21% Polyester, 2% Spandex
Imported
SOCKS closure
Machine Wash
Set includes coordinating baby socks
Soft, gentle, and comfortable on baby's skin
Optimal for everyday use
Affordable, high-quality value pack
How many pairs of baby socks do you need based on Season?
The season does have an impact on deciding the number of socks you may need for your baby. If your baby is summer born you can have 10-15 pairs of socks and can easily move with the season, however, winter-born babies need special care.
DO NOT EVER COMPROMISE ON BUYING MORE SOCKS FOR WINTER BABIES:
Babies have lower blood circulation in the feet which means they will have less heat dissipation in their feet. ( Heat dissipation occurs when blood moves in your veins). If you leave babies bare feet, they can develop hypothermia. It's a condition in which people of any age tend to undergo shivering, shallow breathing, loss of consciousness, and weak pulse.
In winter, it's hard to wash socks every other day because of the excessive cold. Rains in winter are also like fuel to the fire, if you have toddlers, then you must be prepared for receiving doses of wet socks. This is why you need to have 20-25 pairs of socks in winter to protect your baby from colds and other harmful diseases.
Parents Special Tip- Try buying fluffy socks in winter in comparison to plain ones. Fluffy socks are warm and soft, they don't put pressure on those little feet and keep them moisture-free.
How many pairs of baby socks do you need when you go out?
The number of socks needed when you go out highly depends upon the below-mentioned factors of the chosen destination
Distance
Weather conditions
Duration of stay
Purpose i-e for holidays or a day out
If you are planning to go out to a shorter distance destination, then having 2-3 pairs of socks is enough but if you have plans of long travel, then it's wise to take some extra pairs. Weather conditions also fluctuate the socks number.
Take at least 5-7 pairs of socks with you if you are moving towards colder areas for a day or two. However, take 10-15 pairs of socks with you if you have plans of staying for 7-10 days in a hot area, and multiply the number for the colder ones.
This is because when you are out, you can no longer wash the socks. Also on outings, there are more chances of the baby's socks getting dirty or you can even lose them easily. So having more pairs would save you from the trouble.
Best Fleece Booties for Babies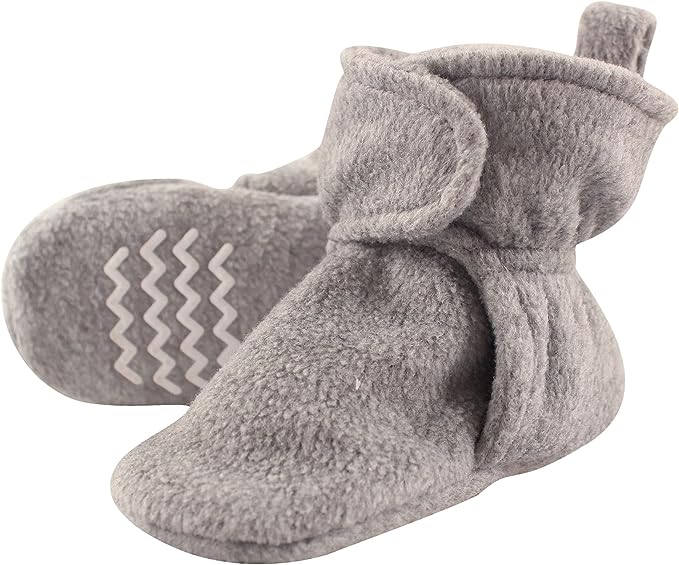 Hudson Baby Unisex-Child Cozy Fleece Booties Slipper Sock
100% Polyester
Imported
Polyester lining
BOOT closure
Machine washable.
Baby cozy fleece booties
Soft, gentle, and comfortable on baby's skin
Optimal for everyday use
Baby Socks FAQS and Facts:
Parents do come across multiple myths about baby socks, the most common of which is not to make babies wear socks at night. But we have solved those myths for you with researched-based answers to avoid you from experimenting with your baby.
Yes, it's a good practice to wear socks to babies at night. According to research by healthychildren.org, babies need to have at least one layer of clothing on light summer days, and in winter, socks should be baby's essential wear. This is because low blood circulation in babies can make them prone to diseases.
How much does it cost to buy a pack of baby socks?
Baby socks in comparison to adult socks are inexpensive and are mostly available in pack form. You can easily get a pack of 6 pairs of socks for $10 to $20. Pricing of baby socks is dependent upon the brand, material, and features of the socks you are buying.
How many pairs of socks do I need for twins?
Multiply the number of socks for twins the same way you multiply their clothing sets. If you are planning to buy 10-15 pairs of socks for one baby then buy 20-30 pairs of socks for the twins. Having twins also means that you will have probably less time for washing and winding up the mess.
Also if in any case, you become a victim of socks vaporization, you would really not be in the mood to find the lost pair because of the tough routine your beautiful twins might give you.
How do you select types of socks for babies?
To protect those soft petal feet of babies, try to make them wear socks that feel soft on the skin. Try not to choose socks that come with rubber bands because those can create red marks on their skin and cause irritations. Try having socks with non-skid soles for toddlers. This way the socks will stick in place.
Socks washing way to help protect your child from diseases:
Research published by the Journal of Pediatric Orthopedics B warns against not washing socks inside out. According to the research, not flipping socks while washing can make your kid prone to Hair Tourniquet syndrome.
It's a condition where hair or pieces of thread gets wrapped around toes, fingers, and appendages and halts or disturbs the blood flow which further causes strangulation or amputation. 1
In Conclusion, there are 5 benefits a greater number of socks gives you:
While we move towards finally winding up this article on how many pairs of baby socks you need which we saw depended on multiple conditions however socks can be a blessing for your little miniatures because they
Protects you from the hassle of washing every day
It helps avoid the buildup of parental stress
Fights against socks vaporization ( losing of socks)
Socks packs come cheaper
You are always ready for an outing
Reference: