Greetings, Have you ever wondered how good it would be if we could treat peripheral ill conditions with a product rather than going for medicines, exercising, yoga or therapies? To your goodness, such like a product already exists and after knowing its specs, you would wish for knowing it earlier.
Did you guess it after reading the title? Yes! The product is the compression sock but wait, what is compression sock and how is related to peripheral phenomena such as neuropathy? And how do I choose the best compression socks for neuropathy? These questions are exactly what we gonna cover in this article.
But before we put the gear into finding the socks for neuropathy we first need to understand if you really are a victim of neuropathy or it's just the normal pain you are mistaking for neuropathy? Let's get into its types to know the answer.
What is neuropathy? (Neuro- Nerves)
Neuropathy is a condition where the nerves associated with the nervous system get damaged and experience a halt in proper functioning due to high intake of sugar, improper distribution of blood, and unbalanced cholesterol levels.
The central nervous system connects with the whole body via the spinal cord and brain by sending signals in the forms of neurons and looking after the proper management of the body. Any damage or destruction of nerves in this area can disrupt or divert the functioning of the system.
This disruption commonly occurs in some parts of the nervous system and this is where we get the neuropathy types.
Neuropathy Types and their causes:
Neuropathy is of four types
1. Peripheral Neuropathy
Peripheral neuropathy occurs when the nerves of the feet and hands get damaged. It is highly concerned with diabetes. This is because diabetic patients mostly suffer from uncontrolled sugar levels. Another term used for peripheral neuropathy is diabetic neuropathy.
2. Autonomic neuropathy
This has resulted in nerves associated with the control of involuntary functions of the body such as digestion, breathing, and heart rate
3. Proximal neuropathy
Resulted from nerve damage in thoracic, lumbar root, chest walls, or legs.
4. Mon neuropathies
This type refers to neuropathy caused due to damage in an individual nerve belonging to any body part.
Symptoms of Neuropathy concerning feet:
This is how neuropathy symptoms affect your feet
Numbness in the feet results in the loss of senses that further exposes you to injuries.
Burning sensations around the toes or in entire feet
Sharp pain or tingling sensations that sometimes feel electric-like
Muscle weakness resulting in cramps, immobility, and low stretch
Excessive sweating especially at night results in sleeping difficulty
Visibility of Painful sores, foot deformities, and foot ulcers
Sensitivity to touch, and feel of stabbing like pain
Loss of body balance, weakness, and irregularity
Compression socks for neuropathy? Do they actually relieve foot pain?
In the consideration of the above statements of neuropathy, it's evident that each neuropathy type has its target points, and in the same way, there are different methods of treating it. Peripheral neuropathy if it resulted from poor circulation could be treated with compression socks.
How to know if you have poor circulation in the feet?
If your feet are numb, have stinging or stabbing-like sensations get injured easily, or are exposed to severe cramps then your feet have low circulation.
For such symptoms, you can wear compression socks. They will put pressure on your legs by providing the necessary arch compression that will force the staggered, standing, or clotted blood to move upwards i-e towards the heart, and improve blood flow.
Always choose socks with a lighter degree of compression. Research in the Journal of diabetes science and Technology 1 suggest that slight compression-filled socks can help chase low circulation problems in the feet without creating any damage.
Pay Attention- Diabetic socks are not Compression socks
Diabetic socks are often confused with compression socks although diabetic and neuropathic socks do not have much of a difference. This is because compression socks are used to treat peripheral neuropathy which is resulted due to diabetes but peripheral neuropathy treatment methods differ from person to person.
Diabetic socks treat circulation problems in people with diabetes by pumping the blood from the heart toward the legs to treat injuries. In contrast, the latter pushes the staggered, standing blood upwards toward the heart.
Choosing the wrong-purpose socks could worsen the problem and ease it. This is why get to know your condition first and then choose socks. However, if you are confident about your condition, then our list of neuropathy socks might help you.
List of best compression socks for neuropathy:
Neuropathy is a common foot condition but if left untreated, can land you serious foot disorders. You can avoid its chronic attacks just by the use of socks ( after taking recommendations from the doctors)
1. Blitzu instant pain relief compression socks
Are you also among the ones who don't want to stuff themselves with pills, try pain full exercise, follow body stretching, and do icing but instead go for a product that can save you from the painful bits and provide instead relief, then you can't go wrong with Blitzu foot compression socks. These neuropathy socks might not have 100% satisfactory durability features but they definitely are the best compression socks for neuropathy.
These nylon-built socks have three differential technologies that forced us to keep them as our number one buy. The kinesiology taping technology, 4d knitting, premium-grade compression, 4-way stretch, and patent compression leave no room for foot pain to emerge again. The good thing is that you can sleep in them as well and still have no marks on your feet.
Kinesiology Taping Technology:
It's a natural way of eliminating foot pain, supporting and stabilizing foot movement to recover from foot injuries and enjoy painless walks. Blitzu socks have kinesiology strips that fulfill these duties. This technique is highly recommended by physical therapists.
Your next instant relief product:
Blitzu socks are providing maximum protection against a wide range of diseases including relief from plantar fasciitis, ankle pain, foot arch pain, inflammation, and bone spurs with its material, non-slip cups, right fit compression, and nature-favored technologies.
Pros
Eliminates foot pain stabilizes and supports foot movement
One product that provides instant relief from a handful of diseases
Nonslip cuffs improve blood circulation for a speedy recovery 
Prefers and provides natural ways of subsidizing foot swelling 
360-degree rotation compression prevents foot injuries
Cons
Sizing might not fit all ( do check size chart mentioned) 
Comparatively less durable 
2. Foot Health hot therapy compression socks for neuropathy
These gel socks by foot health are a special addition to our list. It is the one best feature-equipped socks that you would wish of buying sooner. Whether you are a diabetic neuropathic patient, have sore or burning feet, have foot aches, or have cold feet, you can easily succor them with these socks.
The inserted 6 Gel pads with each pair have hot and cold therapeutic purposes. The hot temperature aids pain and increases blood flow by easing the oxygen and nutrients flow whereas the cold temperatures subsidies the pain by reducing inflammation and sores. You can heat the gel pads in an oven or in hot water and cool them in the refrigerator. Their temperature lasting time is 30-50 minutes.
Complete Featured Pack:
Foot health socks have such a long list of features to provide instant relief from a variety of ill conditions. Their treatment pattern is not limited to the feet alone but with the help of two detachable gel pad strips, you can put them on your different parts of the body. These strips also provide the needed compression.
Lots of Extras in one pack:
Foot health provides extras in two contexts. Extras in terms of packaging include 6 gel pads with each pair, a travel bag, detachable compression strips, and a storage bag. While its second pattern of being extra is its natural and quick way of treating diseases other than neuropathy such as plantar fasciitis.
Pros
That one pair of socks can be used to treat various ill conditions
Provides instant relief through the use of its gel pads for hold or cold therapy
The temperature lasting time of the gel pads is 30 minutes 
Comes with lots of additional accessories under one pack 
Comfortable, washable, and durable for years to come
Cons
The gel strips compress large size feet but stay still for the smaller ones
3. Pembrook Non-Binding Edema and Diabetic Neuropathy socks
The third one on our list is nonbinding socks by Pembrook. They are 97% polyester and 3% spandex built. This combination adds features of softness, moisture-wicking, and fabric resistance to the socks. To nurse the issues of improper blood circulation in diabetic patients, diabetic neuropathic patients, or edema patients they have added soft, lightweight, non-binding but stay-on-place fabric materials.
They feel so soft to the skin and give a perfect seamless feel however their length is higher than ankles. But, the good thing is that even though they are of longer length still they don't bunch, rollover, or ride inside the shoe. Additionally, these socks give a good stretch to fit swollen, fluidic feet. The stretch also aids in the self-wearing of socks for older people.
Super soft socks:
The composition of Pembrook socks is kept super soft to succor swollen feet. Since neuropathic patients sometimes can't even withstand the weight of bed sheets. so, wearing socks is an unimaginable act for them. however, these socks' nonbinding, lightweight, and soft features would make these patients rethink their thoughts about wearing socks.
Sizing that fits all:
Although we can't make an efficient statement about sock sizing because we feel that sizing is an entirely personal opinion however based on the sizing options Pembrook gives, it can definitely fit all. They can easily fit women of sizes 5-9, 6-10, and men of sizes 9-12 and 10-13. This sizing paradigm is not much seen in other socks.
Pros
The softest socks type, built of advanced performance blend yarns
Comes with a breathable mesh top that fights bad odor and moisture
Stretchy, nonbinding socks help to overcome improper blood circulation
The weight is kept lighter to don't burden swollen feet and leave an impression
Highly durable to withstand daily wearing and machine wash pressure
Cons
We wish there were more color variations available
4. Orthosleeve WC4 Neuropathy nonbinding wellness socks
These neuropathy socks by Orthosleeve are a combination of comfort and durability. These socks are made with nano-bamboo charcoal which is known for being 100% natural and highly efficient against moisture which means you can wear them to bed without fear of heat insulation at night. The nano bamboo source material is soft and supportive as well for sensitive diabetic or neuropathic feet.
The no-show feature makes them an attractive choice for unhealthy feet whereas the anatomical design helps in adding a perfect fit and accurate foot placement. It is further authenticated by special-shaped toe and heel pockets. Additionally, these socks have a mid-foot arch that aids foot movement to avoid foot numbness in the lower limbs that is resulted due to long sessions of walking or standing.
Hygiene ensuring socks:
The premium quality moisture-wicking embedded fabrics help extract moisture and diffuse them into the air instead of retaining them in socks or in shoes to ensure healthy breathable skin. This process is also effective against foot heat insulation at night.
Bliss for the swollen feet:
The soft and comfortable feel of these socks is what your feet will thank you for. The material is slushy yet it fits perfectly and stays in place. Most of the no-show socks create a bruise near the ankles however this one is an exception.
Pros
Comes with 100% natural, non-toxic, and breathable material 
Supports neuropathic feet fight by providing proper compression 
Foot arch in the needed places assists foot movement 
Softer and comfortable socks fabric threads give a lighter feel 
Supports long sessions of walks and standing with proper foot placement 
Cons
It requires having a thorough look at the sizing 
Comparatively fewer features equipped
5. NatraCure Cold therapy reusable Gel Ice frozen socks
If you are the victim of diabetic/peripheral neuropathy, you are well aware of how the burning sensations on your feet feel like a nightmare. The nerves damaged by the neuropathy cause inflammation or swelling on the feet that result in the severe burning of the area. Such a burning can easily be healed with ice gels.
Natracure has come with these cold therapy neuropathy socks. These socks are not only good at easing burning but look stylish and feel soft to the skin due to their nylon and spandex material composition. The gel pads are removable and separate pockets are provided on the socks for their easy placement. They can be placed on the top or at the bottom near the heel depending upon your requirement and for creating ease in chilling one part of the foot in conditions where you don't want your entire foot to be cool.
Your feet soothers:
You can get instant relief from inflammation, swelling, sore and tired feet, and other assorted chronic painful conditions with Natracure socks. They contain neutralizers that soothe the pain and assist in daily wear and tear. The fleecy padded material also feels soft to the skin and aids improper circulation.
Temperature-lasting gel pads:
The temperature-lasting time of these socks is impressive. It can easily last for 30-40 minutes with a chilling time magnitude ranging in seconds. However, taking precautions would be good. Try to not chill it for longer. The ice-equipped gels don't leak and their various placement options are there as well.
Pros
Provides instant relief against neuropathic burning
Are effective for pregnant women, foot aches, and sprains
Comes with removable gel pads that can be used on top and bottom of the foot
The material composition is nylon and spandex which aids in socks comfort
best socks for neuropathy Curated as stylish, comfortable, and durable 
Cons
Not recommended for wearing at night
6: Heelbo Diabetic Socks for Sensitive Feet Without Elastic:
For someone suffering from neuropathy, circulatory problems, or diabetes, these socks are a must-have. They have been specifically designed to provide the ultimate support and comfort for your feet, ensuring that you can go about your day without any pain or discomfort.
Their prime feature is that coming without elastic and yet having mild compression in the ankle is something that you can keep your worries of getting red marks aside. Furthermore, they are made with high-quality materials and are soft, breathable, and gentle on the skin.
Has Compression where you need it:
They feature a graduated compression design that provides support to your feet and legs, helping to improve blood flow and reduce swelling. This makes them ideal for anyone who spends long periods standing or sitting, such as nurses, retail workers, or office employees.
Comfortable, Supportive, and Stylish: In addition to their functional benefits, these socks are also stylish and versatile. They come in a range of colors and sizes, ensuring that you can find the perfect pair to suit your style and needs.
Pros
Great at improving blood circulation without putting too much pressure on the legs due to its no elastic nature
Helps provide pain relief through targeted compressions in areas where you exactly need
Ideal for wearing for an extended period of time due to its light material construction. 
Are extra padded in the soles which prevent feet from being exposed to injuries
Its acrylic fabric makes a great deal at keeping feet dry through moisture wicking
Cons
Some people find them to be too lengthy but it's wise to always check the size chart
7: Copper Fit Moisturizing Compression socks:
These socks are a revolutionary solution that best alleviates symptoms of neuropathy and improves circulation in your feet. Designed to provide compression and support while also moisturizing your skin due to the infusion of copper ions and natural oils.
The compression technology of these socks also provides relief from swelling, aching, and fatigue commonly associated with neuropathy, diabetes, and other foot conditions. They are also machine washable and easy to care for, ensuring long-lasting durability. Whether you're looking for a solution to alleviate neuropathy symptoms or simply want to give your feet some Top notch care, these socks are must-have
Moisturizing Properties:
The infused copper ions also have antimicrobial properties, helping to reduce odors and bacteria buildup whereas the natural oils used in these socks, including jojoba and lavender, are gentle on the skin and help to soothe dry, cracked heels and other foot irritations.
Comfortable fitting for all:
They also have a blend of nylon and spandex, to provide a comfortable fit and breathable feel for all-day wear. They are also available in X-Large size, making them perfect for those with larger feet Kinda making them everything you need in one package
Pros
Provides effective compression therapy for individuals suffering from neuropathy.
Contains copper ions to help reduce odors and improve skin health.
Moisturizes and nourishes the skin with shea butter and coconut oil.
Comfortable and breathable design that can be worn throughout the day.
Helps to improve blood flow and reduce inflammation in the feet and lower legs.
Cons
Not suitable for people with severe neuropathy as they may require a stronger level of compression.
Some users have reported that the socks tend to slide down during the day, which can be uncomfortable.
Final Round-Up!
Above were our best picks for the best compression socks for neuropathy. But we would want you to consider the below factors to make your purchase worthwhile.
Look for these features in the compression socks for neuropathy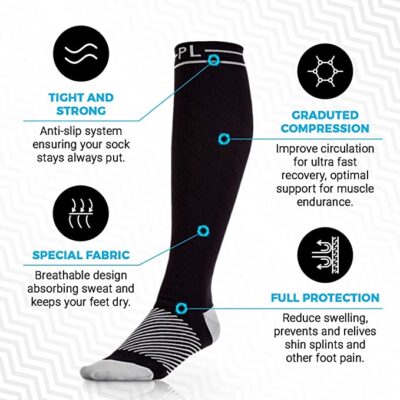 These features can vary from person to person since they are highly dependent upon neuropathy patients' feet' conditions.
Color:
We have kept color as a prior selection factor here because most neuropathic patients experience low to no sensations in their legs and feet. This way if they get injured, they are not aware of it. This is why wearing white color socks or lighter color socks would help them notice their injuries.
Seamless:
Choosing compression socks with seamless construction can help you fight against blisters that occur due to constant rubbing of the feet with shoe soles. This phenomenon occurrence is directed toward the seam soles.
Breathable fabric:
Neuropathic patients are highly at risk of developing foot ulcers and going through day-to-day inflammation. In such a condition no one is willing to the invasion of bacteria or fungi. Socks with breathable fabrics are highly recommended to keep your feet dry
Padded Soles:
The numbness of the feet makes it hard for diabetic neuropathic patients to protect themselves from injuries. This is why socks with padded soles are a must-have. They protect the feet from injuries and also make walking or standing easier.
Gel pads:
Compression socks with gel pads are the perfect neuropathy treatment gear. These gels can assist in the hold and cold therapies for treating inflammation, foot aches, sores, edema, etc. Make sure the gel temperature lasting time is 30 minutes.
Concluding note
While looking for the features mentioned, do not forget to give an eye on the sock fitting. Fitting in compression stockings or socks is of prime importance because the wrong size can worsen the problem.
We hope this guide helps you in making a healthy purchase.
---