"Stay warm and keep your toes toasty on all your hunting adventures with the best electric socks for hunting." – SocksAdvisor
Are your feet freezing on hunting trips? No worries, we've got the perfect solution! Electric socks have changed the game, providing super warm and comfy feet during those chilly outdoor adventures.
In this article, we'll explore the top-notch electric socks that promise to keep your toes toasty and ready for action. Whether you're a passionate hunter or just like occasional trips, these socks will be your trusty companions against the cold.
These socks have advanced heating tech that keeps your feet warm, so you won't suffer from freezing toes anymore. They come with rechargeable batteries, lasting a long time, ensuring cozy feet throughout your outdoor fun.
Join us as we check out a selection of the best electric socks available. We'll look at how well they warm up, how long the batteries last, how durable they are, and how comfy they feel. With our guide, you'll be confident to pick the perfect socks for your hunting adventures. Say goodbye to cold feet – get ready to embrace the wilderness with warmth!
How do electric socks work?
Electric socks work by utilizing a simple yet effective heating mechanism to keep your feet comfortably warm during cold outdoor expeditions. These innovative socks are equipped with a built-in heating element, usually located near the toes or the bottom of the foot.
When you turn on the electric socks using a switch or remote control, the heating element gets activated, and it starts generating gentle, soothing warmth. The heat is evenly distributed throughout the sock, ensuring that your entire foot area stays cozy and snug.
Most electric socks come with adjustable heat settings, allowing you to customize the warmth according to your preference. This feature comes in handy, especially when the temperature fluctuates during your hunting adventure.
The heating element is powered by a small rechargeable battery, freeing you from the hassle of dealing with wires. These batteries are designed to last for a considerable period, making electric socks a reliable companion for extended outdoor activities.
Why do Feet get cold on Hunting and How do the best electric socks for hunting Offer Relief?
When you're out on a hunting expedition, there are various reasons why your feet might get cold. Understanding these factors can help us see why electric socks can be a game-changer for restoring comfort to your feet.
Exposure to Harsh Weather:
Hunting often takes place in cold and harsh weather conditions. Prolonged exposure to low temperatures can cause your feet to lose heat rapidly, making them feel cold and uncomfortable.
Limited Blood Circulation:
During chilly weather, your body tends to prioritize blood flow to vital organs, which can lead to reduced circulation in your extremities, including your feet. This reduced blood flow can leave your feet feeling cold and numb.
Moisture and Sweat:
Engaging in outdoor activities can make your feet sweaty, and moisture can contribute to cold feet, especially in freezing conditions. Dampness can quickly sap away your body heat, leaving you with uncomfortably cold feet.
Lack of Insulation:
Regular socks may not provide sufficient insulation to combat the extreme cold during hunting trips. As a result, your feet may struggle to maintain a normal, comfortable temperature.
This is where electric socks step in as your reliable ally. By incorporating advanced heating technology, electric socks actively generate warmth to counteract the cold and keep your feet cozy.
They ensure a constant supply of heat, enhancing blood circulation and preventing moisture from lingering. With electric socks on your side, you can focus on your hunting adventures without the discomfort of cold feet hindering your experience.
Top 5 Best Electric Socks for Hunting:
1. Snow Deer Heated Socks for Men and Women:
Snow Deer Heated Socks- Electric Foot Warmer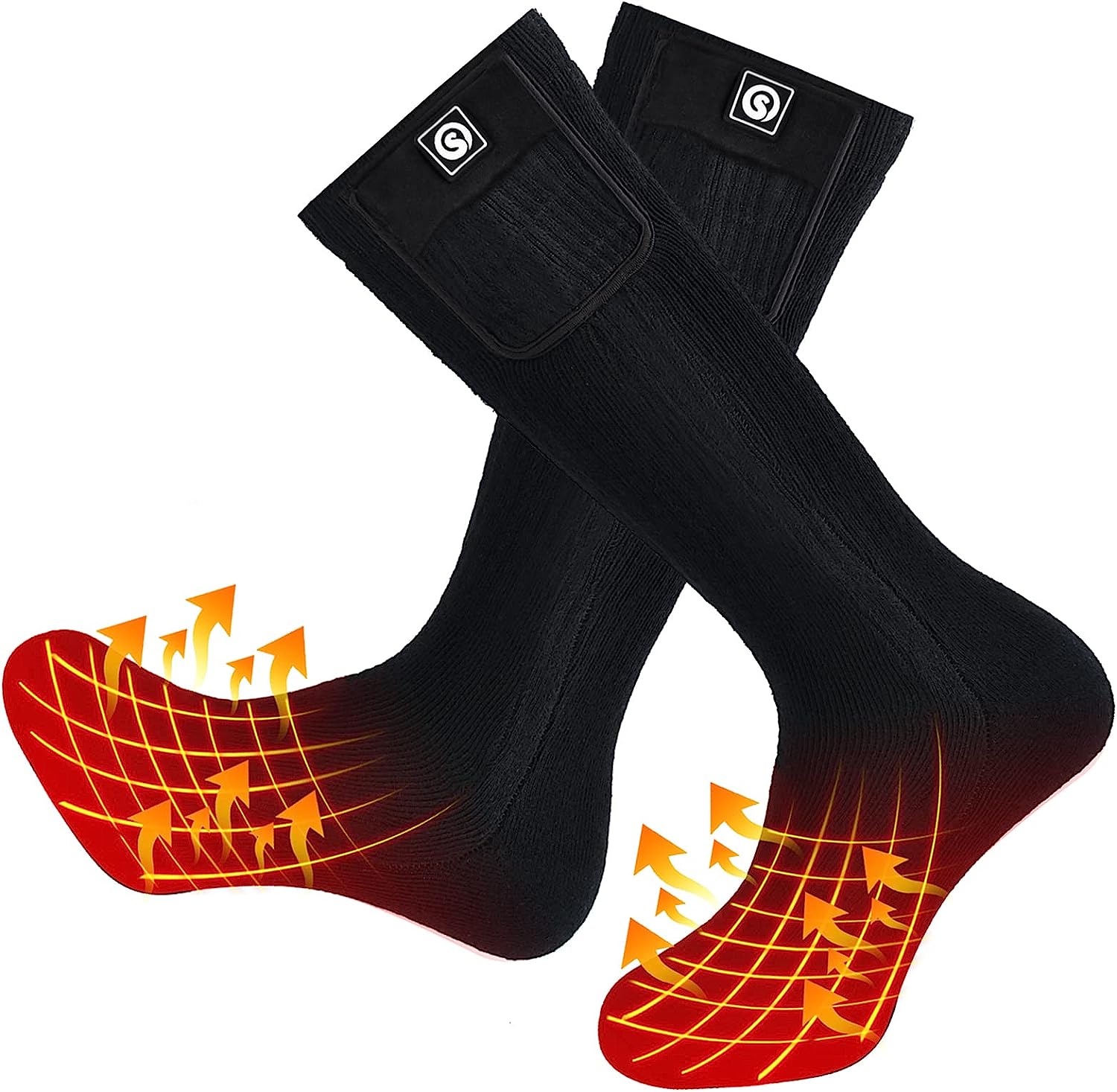 Highlights:
Moisture-Wicking Fabric
Heating Elements Covers Whole Toes, Top&Bottom of Foot
7.4V 2200mAh lithium polymer rechargeable battery
Touch-Button Temperature Control
Various Size Option
Improved blood circulation
The SNOW DEER Heated Socks are a game-changer for hunters seeking unparalleled warmth and comfort during their outdoor escapades. Crafted with cutting-edge heating technology, these electric battery socks are designed to keep your feet toasty and ready for action, no matter how chilly the weather gets.
Equipped with a reliable and rechargeable battery system, the SNOW DEER Heated Socks offer an extended heating time, ensuring that your feet remain cozy throughout your entire hunting trip. The heating elements are strategically placed to target key areas of your feet, including the toes and the sole, providing a consistent and even distribution of warmth.
Constructed with high-quality, breathable materials, these electric foot warmers guarantee maximum comfort and durability. The snug-fitting design ensures a perfect fit without being overly restrictive, allowing you to wear them with your favorite hunting boots without any discomfort.
Pros
Ensures consistent warmth throughout your hunting experience.
A rechargeable battery system provides extended heating time.
Targeted Heating: Strategically placed heating elements keep toes and soles cozy.
High-quality, breathable materials for maximum comfort and longevity.
Adjustable Heat Settings allow you to choose from three heat levels for personalized warmth.
Cons
The superior features come at a relatively higher cost.
2. Hotronic Classic Heat Socks- The Best Electric Socks for Hunting:
Hotronic Classic Heat Socks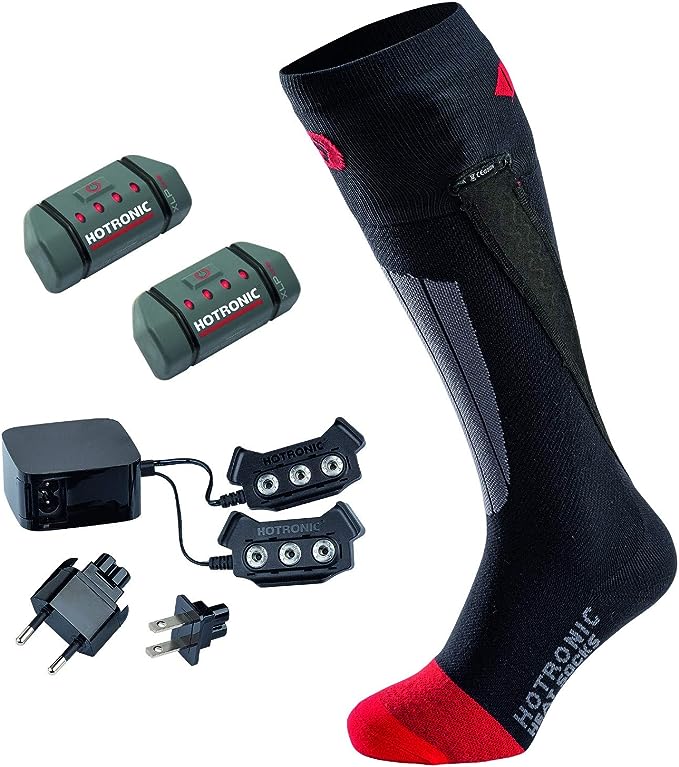 Highlights:
Includes 2 Lithium-Ion Batteries
US and European Charger
74% Nylon 20% Elasthan 6% Merino Wool
Machine Wash/Air Dry
Fantastic Wicking Ability
The Hotronic Heat Sock Classic is the ultimate solution for keeping your feet warm and comfortable during cold weather activities. Designed with advanced heating technology, these socks provide targeted warmth to your toes, ensuring you can enjoy your favorite outdoor activities without worrying about cold feet.
These heated socks feature a rechargeable battery pack that attaches securely to the sock's cuff, allowing you to customize the heat level to your preference. The heating elements are strategically placed around the toes to deliver consistent warmth, and the soft, moisture-wicking fabric ensures a cozy and dry experience.
Whether you're skiing down the slopes, hiking in chilly conditions, or simply want to keep your feet warm on a cold winter day, the Hotronic Heat Sock Classic is the ideal companion. Say goodbye to uncomfortable, frozen toes and embrace the warmth and comfort these heated socks provide.
Pros
Keeps your feet warm and cozy during cold weather activities.
Adjustable heat settings allow for customized comfort.
High-quality materials ensure durability and long-lasting performance.
Moisture-wicking properties keep your feet dry and comfortable.
Perfect for outdoor enthusiasts, skiers, hikers, and anyone facing chilly weather.
Cons
The rechargeable battery pack adds some weight to the sock, which may be noticeable for some users.
3. Dr.Warm Wireless Heated Remote Control Socks:
Dr.Warm Wireless Heated Socks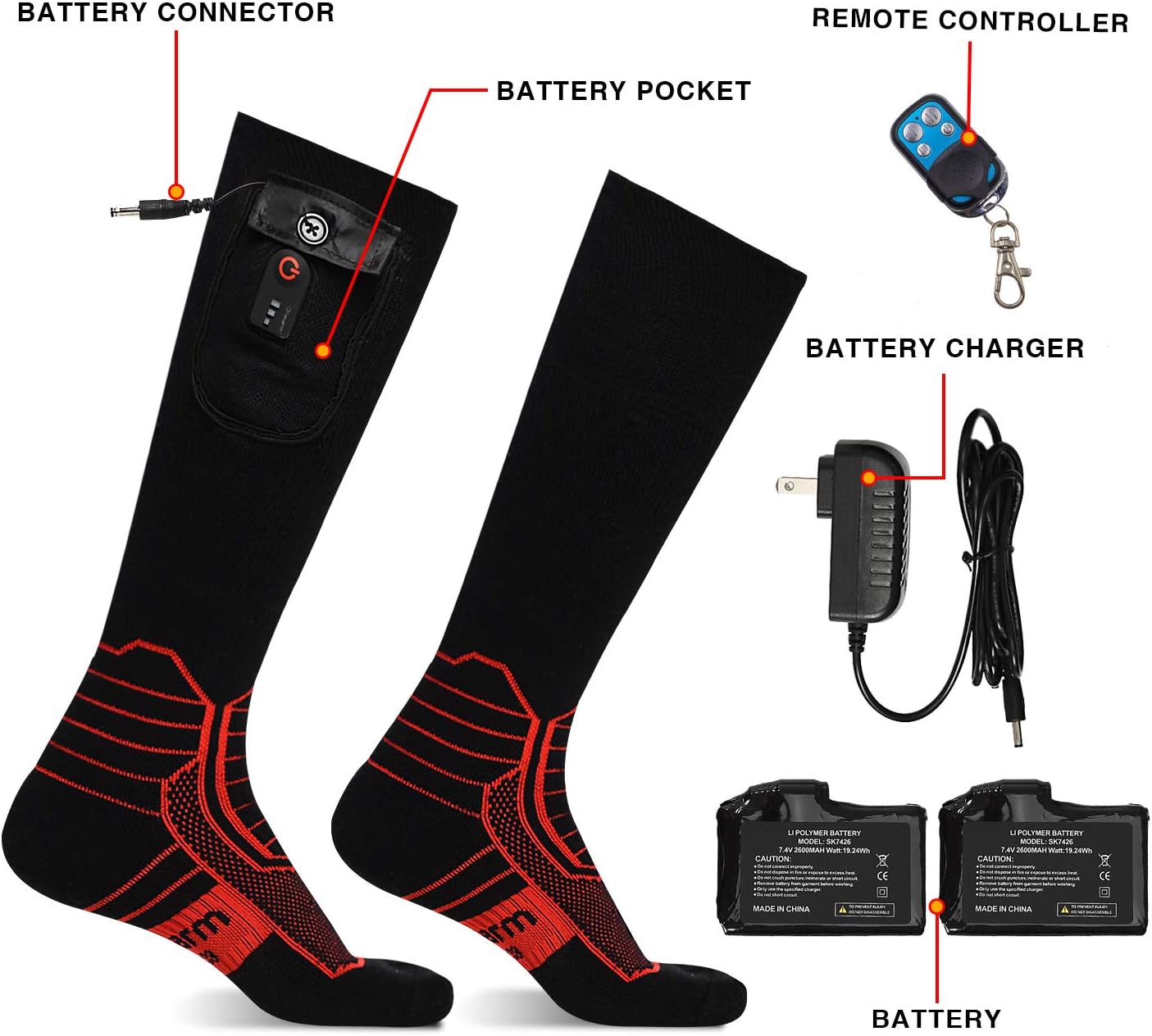 Highlights
Wireless
Warm up feet immediately
Remote controller
Two 2600mAh 7.4V lithium batteries
Good characteristics of heat reservation, lightweight and softness
Constructed with 20*5 cm heating membrane 
Suitable for all kinds of outdoor sports,
Dr.Warm Wireless Heated Socks are the perfect solution to keep you warm and comfortable during cold winter days. These innovative thermal ski socks are designed for men, women, and kids, offering cozy warmth and supreme comfort for all ages.
With the latest technology, these heated socks come equipped with a remote control and a powerful 2600mAh 7.4V rechargeable battery. This means you can easily adjust the temperature to your liking, ensuring your feet stay toasty in the chilliest of conditions. No more dealing with freezing toes or uncomfortable cold feet!
The wireless design allows for maximum freedom of movement, making these heated socks ideal for outdoor activities like skiing, snowboarding, and hiking, or simply for daily wear during cold seasons. The sock material is soft and gentle on your skin, ensuring a comfortable fit without irritation.
Pros
Adjustable heat settings with the remote control for personalized comfort.
The powerful rechargeable battery ensures long-lasting warmth for extended outdoor adventures.
Wireless design provides freedom of movement and convenience.
Suitable for men, women, and kids, making them perfect for the whole family.
Ideal for various outdoor activities and everyday use during cold winter months.
Soft and comfortable material that feels gentle on your skin.
Cons
The heating element may feel noticeable to some users.
Socks may be slightly thicker than regular socks due to the heating technology.
4. CYzpf Heated Warm Cotton Socks For Men and Women:
CYzpf Heated Warm Cotton Socks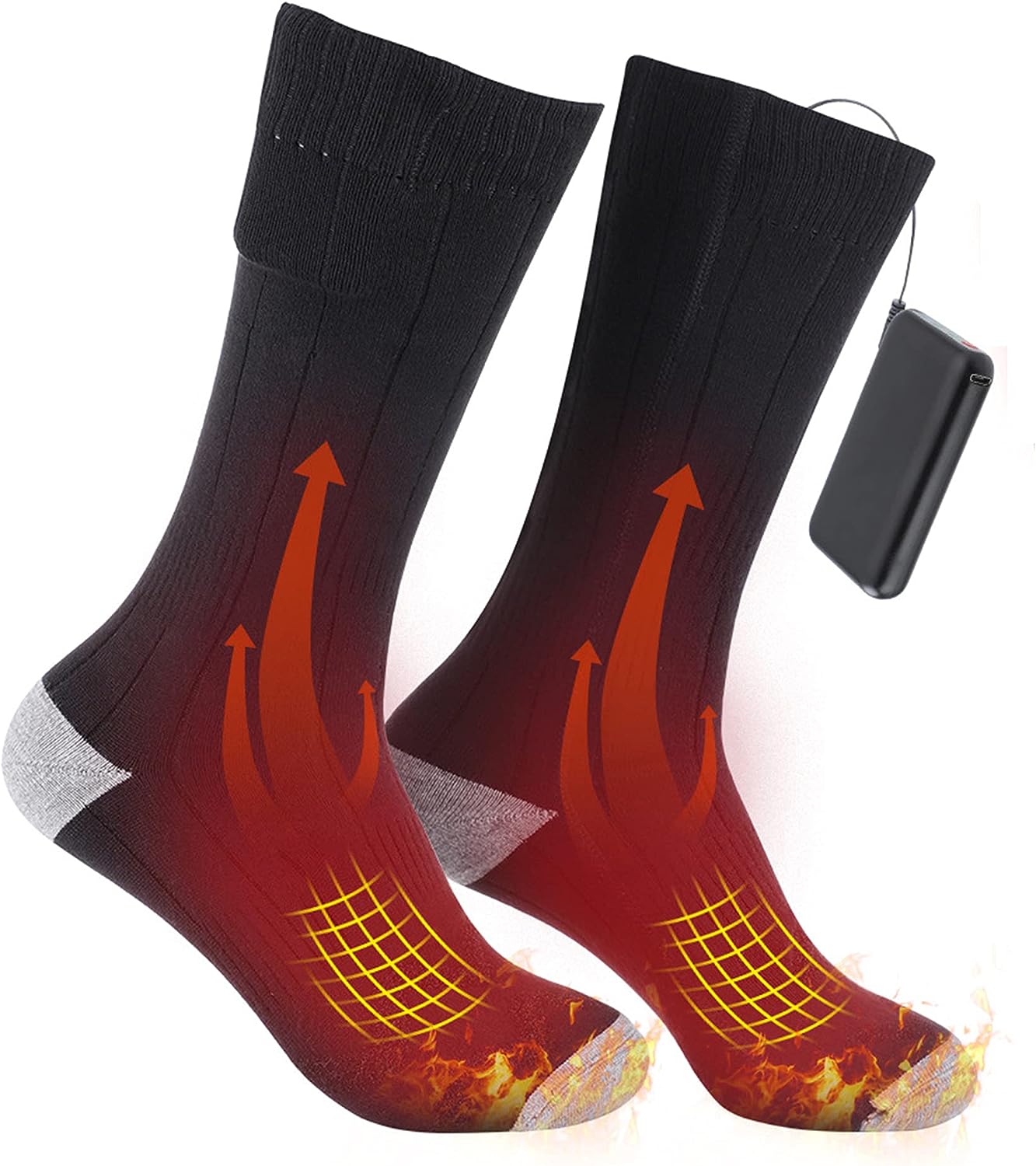 Highlights:
3.7V 4000MAH Rechargeable Li-ion Batteries
Heating Up to 3-7 Hours 
3 Settings Temperature Controller
Full charge around 3-4 hours
Absorbent, breathable, and quick-drying 
The CYzpf Heated Socks are powered by a high-capacity 3.7V 4000mAh rechargeable battery that delivers efficient heating performance for extended periods. With a simple USB charging interface, you can conveniently charge the socks using a power bank, laptop, or any other USB-compatible device. Say goodbye to dealing with cumbersome disposable batteries – these socks are eco-friendly and economically sensible!
Additionally, they are Crafted from premium-quality cotton, these socks offer a soft, comfortable, and breathable fit. The cotton material helps maintain natural airflow to prevent excess sweating while still providing adequate insulation for optimum warmth. The socks are also lightweight, so they won't weigh you down during your favorite winter sports, hiking, camping, or any other outdoor adventures.
Furthermore, These socks are equipped with an intelligent thermostat system, the CYzpf Heated Socks give you complete control over your comfort levels. Choose from multiple heat settings to adjust the temperature according to your preference, ensuring your feet stay warm without feeling overheated. Whether you need a subtle warmth or intense heat, these socks have got you covered!
Pros
Advanced heating technology keeps your feet warm and cozy in cold weather.
The rechargeable 3.7V 4000mAh battery ensures long-lasting heating performance.
Easy USB charging eliminates the need for disposable batteries, saving you money and reducing waste.
Premium-quality cotton material offers a soft, comfortable, and breathable fit.
The lightweight design allows for unhindered movement during outdoor activities.
An intelligent thermostat system with multiple heat settings gives you control over your comfort levels.
Cons
The heating element may take some time to reach the desired temperature initially.
Charging time may vary based on the power source and may require a longer time with lower output chargers.
5. Sun will Electric Rechargeable Battery Warm Socks:
Sun will Electric Warm Socks: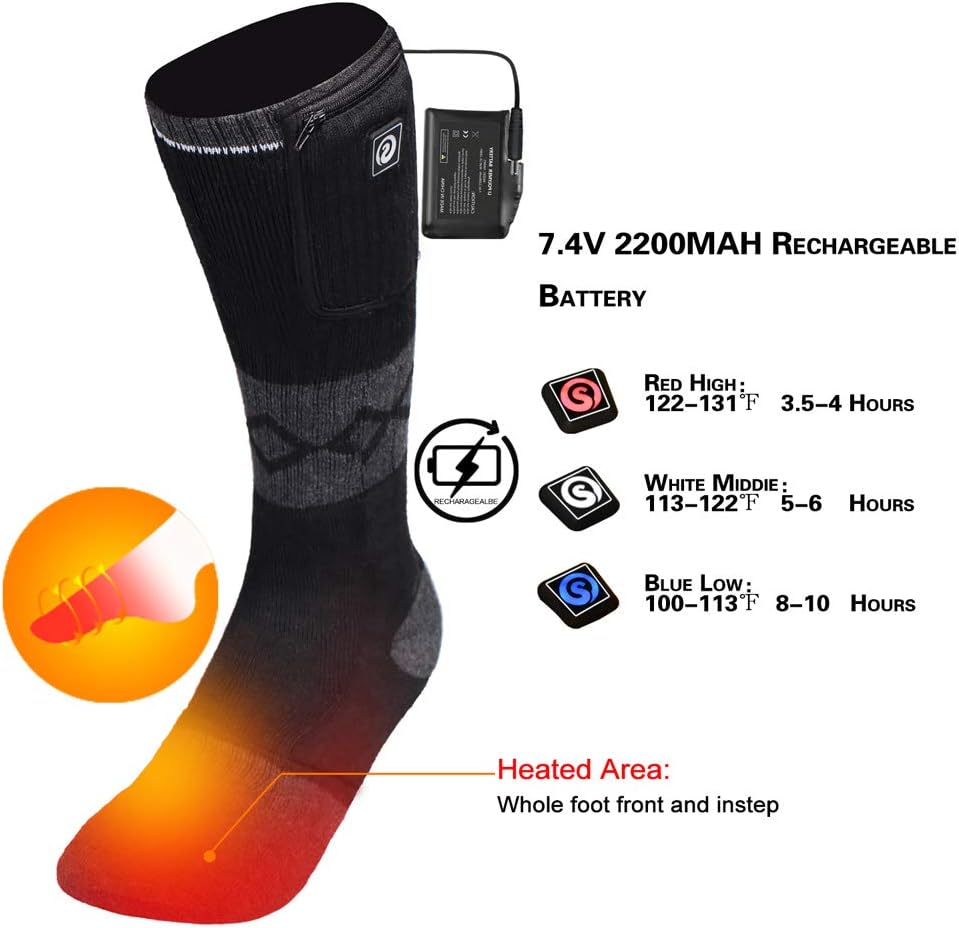 Highlights:
Elastane material coolmax,polyester
Imported
Heated socks with the front foot and instep both heating.
7.4V 2200mah rechargeable lithium battery
2-6.5 hours with 6 heat settings.
Coolmax socks with, lycra liners.
Dual charger

Sun Will's technologically advanced socks come equipped with a 7.4V 2200mAh Electric Rechargeable Battery that provides efficient thermal heating, ensuring your feet remain comfortably snug in cold weather conditions.
The main highlight of these Heated Socks lies in their powerful and rechargeable battery system. With just a simple charge, you can experience long-lasting warmth for extended periods. No more worries about swapping out disposable batteries or running out of warmth midway through your adventure! The 7.4V 2200mAh battery is not only reliable but also offers rapid heating capabilities, so you can quickly enjoy the soothing warmth in no time.
Additionally, they are crafted with high-quality materials, these socks are not only designed for optimum heating performance but also offer a comfortable and ergonomic fit. The soft and breathable fabric ensures maximum comfort for your feet, making them suitable for all-day wear. The elasticated cuffs keep the socks securely in place, preventing any slipping or discomfort during your activities.
Furthermore, these Heated Socks are unisex, making them a versatile and thoughtful gift choice for both men and women. Whether you want to surprise your loved ones with a practical present or treat yourself to the ultimate winter accessory, these socks are an excellent investment in your comfort and well-being.
Pros
Advanced 7.4V 2200mAh Electric Rechargeable Battery ensures long-lasting and rapid heating, keeping your feet warm in cold weather conditions.
Ergonomic design and high-quality materials offer a comfortable and secure fit for all-day wear.
The user-friendly control button allows for easy adjustment of heat settings, giving you complete control over your foot warmth.
Ideal for various outdoor activities and adventures.
Cons
The heating element may add a slight bulk to the socks, but this is barely noticeable and does not compromise comfort or fit.
Frequently Asked Questions (FAQs)

– Best Electric Socks for Hunting:
Are electric socks safe to use?
Yes, electric socks are generally safe to use, as they come with built-in safety features like overheat protection. However, it's crucial to follow the manufacturer's guidelines regarding charging, usage, and maintenance to ensure safe and optimal performance.
How long do the batteries last on electric socks?
The battery life of electric socks varies depending on the brand and heating settings. Some socks offer heating for several hours on the lowest setting and a few hours on the highest setting. It's essential to check the product specifications for precise battery life information.
Can I use electric socks for activities other than hunting?
Yes, electric socks are versatile and can be used for various outdoor activities like skiing, camping, hiking, and more. They are designed to provide warmth and comfort in cold weather conditions, making them suitable for any winter adventure.
Are these electric socks machine washable?
The washability of electric socks depends on the brand and model. Some socks are machine washable, while others require careful hand washing to protect the heating elements and batteries. Always refer to the manufacturer's care instructions for proper maintenance.
Can I adjust the heat levels on electric socks?
Yes, most electric socks come with adjustable heat settings, allowing you to control the level of warmth according to your comfort and weather conditions. Some socks even offer smartphone app connectivity for precise temperature adjustments.
Can I wear regular socks with electric socks for added warmth?
While it's possible to wear regular socks underneath electric socks, it's essential to ensure that the additional layer doesn't compromise the heating performance or the overall fit of the electric socks.
Are replacement batteries available for electric socks?
Yes, most reputable brands offer replacement batteries for their electric socks. This allows you to replace old or worn-out batteries, extending the lifespan of your socks and ensuring uninterrupted heating performance.
Conclusion:
In conclusion, when it comes to hunting in cold weather conditions, investing in the best electric socks for hunting can make a world of difference in your overall comfort and performance. We've explored some of the top options available in the market, each offering unique features tailored to meet the specific needs of hunters.
Consider factors such as battery life, heating levels, material quality, and fit before making your decision. Whichever option you choose, one thing is certain – with electric socks to keep your feet warm and toasty, you can focus more on the hunt itself and less on battling the cold.
---